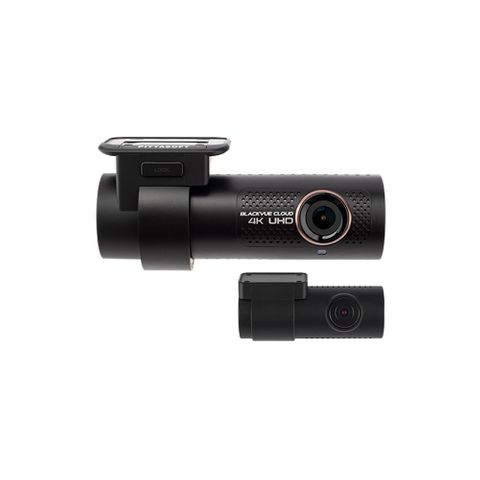 BLACKVUE DR900X-2CH 4K UHD DASHCAM WITH 32GB SD CARD
Product Code:
DR900X-2CH 32GB EN
Description
Front Camera: 8 megapixels CMOS sensor recording in 4K Ultra HD (3840x2160) at 30FPS
Rear Camera: 2.1 megapixels Sony STARVOS recording in full HD (1920x1080) at 30FPS
Native Parking Mode: With built-in voltage monitor to protect your vehicle battery (hardwiring cable included)
4K difference: 8MP 4k UHD sensor captures 4 times as many pixels as in full HD and with its fast shutter speed, details are frozen in place - just pause and zoom in.
No Need to Sacrifice recording time:
With High Efficiency Video Coding (HEVC/H.265), you get great-looking 4K videos but same recording time as a regular Full HD dashcam.
Set up easily and forget:
Simply plug the power cords into the cigarette lighter / accessory power socket of your vehicle and it will automatically start recording as you turn ignition on (no need to push any button).

Event Files Overwrite Protection
Adaptive Format-Free File Management
SD Card Failure Alert
Built-in Impact and Motion Detection:
Automatically tags important files - detects movement even when the car is parked.
Use the filters in the BlackVue App and Viewer - videos are tagged (Normal, Even, Parking mode motion or time lapse)
Sleek Interface:
Programmable proximity sensor - toggle audio recording ON/OFF by simply waving your hand in front of it.
Wi-Fi button - Turn Wi-Fi ON/OFF
Manage with the BlackVue App and Viewer - App is on Android and IOS, Viewer is on Windows and MAC OS
BlackVue Cloud - Connect to your BlackVue anytime, from anywhere in the world via BlackVue Cloud.
LTE Connectivity Module (Optional) - The CM100LTE connects to the dashcam via the USB port, All you need is a valid Nano-sim card - make sure when you purchase that the CM100LTE you choose is compatible with you mobile carrier's network!
Parking Mode Event Voice Notifications: Upon exiting parking mode your BlackVue informs you of events that occurred while in parking mode
Super stealthy - Turns off all LEDs while in Parking Mode will blink when motion or impact is detected.