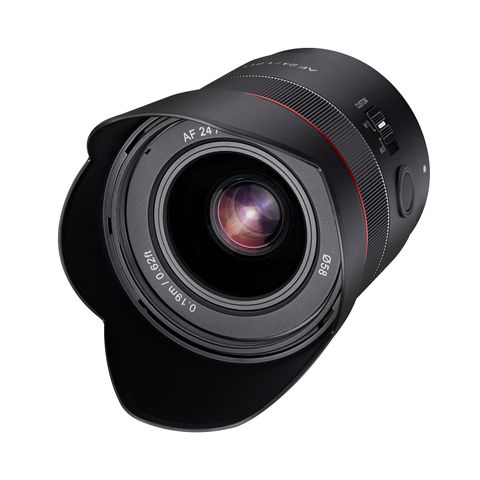 SAMYANG LENS 24MM F1.8 AF SONY FE
Your Price:
$779.95 inc GST
Description
Masterpiece for Astrophotography

The new tiny lens is designed for landscape and astrophotography photographers. Thanks to its compact size and light weight with minimized coma and short minimum focusing distance, you can enjoy photography day and night. This lens provides outstanding corner-to-corner image quality from maximum F1.8 aperture and smooth and natural-looking bokeh. The new features of Focus Hold Button and LED indicator maximize the usability for capturing the night sky.


A Compact Superb-Resolution 24mm F1.8 Prime Lens
Samyang's latest optical technology achieves stunning corner-to-corner resolution from maximum F1.8 aperture in a large aperture wide-angle prime lens. A total of 11 elements in 8 groups, with 7 special lenses(2 ASP, 3 HR, 2 ED) allow you to express your infinite creativity; especially suitable for astrophotography as you can get awesome images with minimized spherical and coma aberration.


[New] Custom Mode for Astrophotography
The AF 24mm F1.8 FE lens features a new function titled "Custom Mode" with an "LED indicator" for astrophotography. The "Custom Mode" can be operated through the newly-designed Focus Hold button. Once the user enters the custom mode, the LED indicator will blink once, and the focus will automatically move to the infinity position. *Users can save their own focus position with the focus hold button.


[New] Focus Hold Button & Custom Switch to Maximize Usability
Customizable Focus Hold Button Pressing this button on the lens will keep the lens locked to that focusing distance. The user can also assign other desired functions to the focus hold button through the menu setting on the camera body. Custom Switch Equipped with the Custom Switch, shooting and operation is more intuitive and simple. You can easily select various functions such as Aperture Control Mode or MF Mode from the Switch, and enjoy the shooting mode that suits your personal preference. *More functions will be added through firmware update in the future.