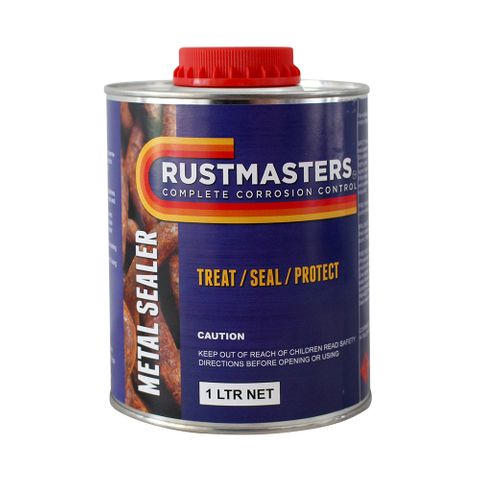 RUSTMASTERS METAL SEALER 1 LITRE
Your Price:
$79.95 inc GST
Expected Date:
01-06-2022
Description
Rustmasters® Metal Sealer is a rust penetrating, moisture repelling, non-pigmented product, which permeates through rust and adheres to the metal surface. Rustmasters® has been developed to markedly extend paint systems duration on both rusty and non-rusty steel surfaces, thereby greatly reducing labour costs and extending the life of the equipment treated.
An unknown fact of the Metal Sealer is that is can be used on aluminium radiators & cooling coils to prevent chemical attack when used in agriculture/earth moving etc.


Typical Uses
- New Metal
- Old Rusted Metal
- Aluminium radiators and machinery
- Oilrigs
- Pipelines
- Roofs and buildings
- Aircraft and rolling stock
- Railway systems
- Military airframes
- Ships and boats
- Sea and rail containers
- Cars and trailers
- Off-season storage of agricultural equipment and tools
- Storage of military equipment and firearms
- Fishing equipment